DIY: Natural Face Scrub With Emmily Banks
I've always known that I was incredibly fortunate to have grown up with inspiring, creative and strong women as role models in my life. But starting this blog has truly escalated this appreciation! Along my own journey of working towards a conscious lifestyle I've had woman at hand that have continually provided advice and guidance when needed just out of the love for it.
One space that I'm forever trying to refine is my beauty 'routine' (or lack of) and making this as natural as possible. My go to guidance within this area is Emmily Banks, natural beauty queen and brains behind Depths Of Beauty. I grew up with this beautiful soul who I would consider a part of my family and to see her turning a passion of hers into a career while making a positive impact on this World just makes my heart sing!
Along with some recommendations for how to create some simple DIY face/body scrubs, here's a little peak into the creative, down to earth and beautiful mind of Em and her journey to becoming a natural makeup artist and blogger - and why you should consider the switch to all natural too!
How did Depths of Beauty evolve into what it is today?
My own personal transition to natural beauty was the first step and once I realised just how toxic conventional products were for our health and the planet I instantly knew these incredible, high performance, eco alternatives needed to be shared! As I began to spread the word, first to friends and family and then slowly into my own work, my passion grew as I started seeing how much of a positive impact we can collective make on our health and the planet by supporting conscious healthy beauty brands.
What's your background and how did it lead you to what you do now?
I've always felt inspired by beauty and extremely interested in health and wellbeing. My beauty career began in mainstream makeup artistry although I was always interested in health and wellbeing - I also wanted to study naturopathy in my late teens! As my knowledge and creative passion for beauty increased, my career grew but I started to feel there was a huge disconnect between my values and work. Contributing to the consumption of toxic, mainstream products began to feel downright dirty and the deeper I dug into the beauty industry, the more I realised just how little regulation there is on the products we are using.
What inspires your work at the moment?
The growth of people becoming increasingly conscious about their choices and the impact they can have in the world. I am constantly inspired by people giving a shit, it really fuels my work with Depths. Each day, month, year Depths is growing and evolving and I am so excited to inspire and empower more and more people to make informed and educated decisions - it just doesn't get any better than this right!?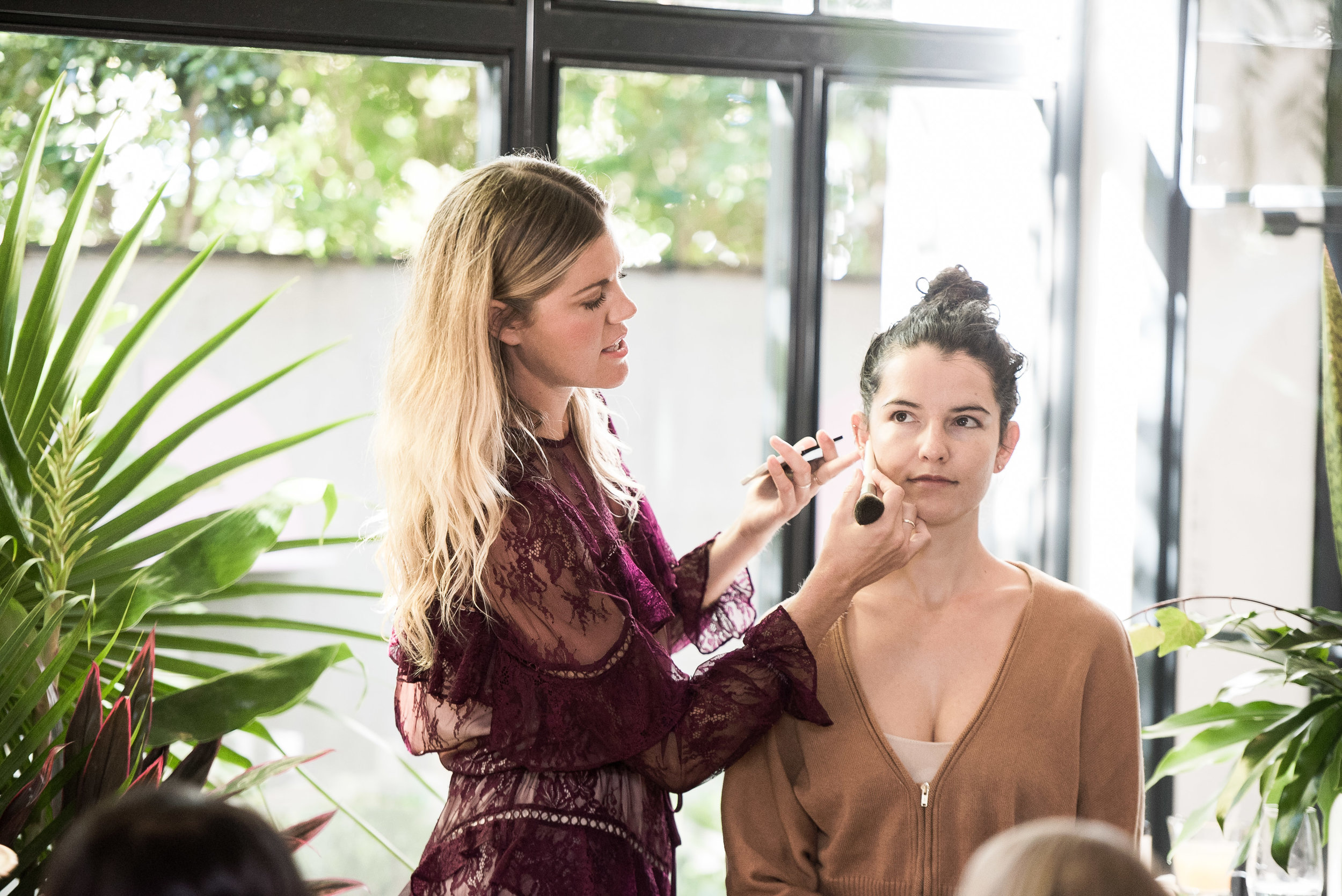 Truly I believe what we put on the OUTSIDE is just as important as the products we use on the inside.
As a creative/free spirit/entrepreneur what are your essentials to keeping fresh and motivated?
Mind/Soul: I dabble in meditation and visualisation but mostly, my soul craves nature hits to keep me as balanced as possible. You will often find me strolling along the beach singing, swimming in the ocean or frolicing barefoot on nature walks - this is my daily non-negotiable to keep me feeling grounded.
Body: I love to move my body daily. There's nothing like a run or sweaty gym workout to get me feeling strong and healthy. I'm also loving two new hobbies I started this year - surfing and skating! SO. MUCH. FUN!
Inner: I'm really conscious about what I put in my body to fuel me daily! To stay energised I'm all about fresh wholefoods, nourishing bone broths and delicious, nutritious smoothies.
Outer: Obviously, this is my area of expertise. When it comes to the products I put on my skin it has to be all natural and organic. I can't go past oils at the moment for my skin, especially in the drier winter months. I love jojoba for the face, coconut oil for the body and lots of beautiful essential oils during the day to keep me smelling delicious and feeling energised!
Why do you think it's important for people to consider becoming more conscious about what they put on their skin?
Truly I believe what we put on the OUTSIDE is just as important as the products we use on the inside. Our skin is our largest organ, absorbing more than 60% of what we put on it, straight into our bloodstream. I am super conscious to use only natural, organic beauty products as they are literally feeding our skin.
Thinking back to when you started the business journey what's one piece of advice you'd give yourself then?
Stay true to yourself and figure out what makes you happy – then do more of those things daily! We each have different things that motivate, inspire and make us feel good. Once you can connect to these it's amazing how quickly the rest will fall into place.
Any top tips of where/how people can start working towards a more natural beauty routine?
Start small. Become more aware of the ingredients list on your products. Download the Think Dirty app which will tell you how carcinogenic and potentially toxic your current makeup products are. Education and awareness is key here. Once you become more aware of what you are putting on your skin, and the fact it absorbs up to 60% of what we put on it straight into your bloodstream, it is pretty easy to make the switch.
Thankfully there are so many beautiful, natural and organic brands who are now providing amazing alternatives. Not only do they work just as well but it also means we can leave all those carcinogenic, neurotoxic and endocrine disrupting, mainstream products on the shelves. And there's nothing that causes big companies to stand up and take notice like a decrease in profits. If we use our dollars to vote natural, it's only a matter of time before mainstream brands begin to make the transition to safer ingredients and more sustainable and ethical practices.
Combo 01
(RECOMMENDED BY EMMILY)
3tsp Coconut Oil - Rich in saturated fats, coconut oil will deeply moisturise the skin. Coconut oil is also antimicrobial making it perfect for a pore cleaning scrub.
1tsp Cardamom - Anti-ageing and great for glowing, healthy skin.
1tsp Cinnamon - Helps to heal, acne, blemishes and other skin infections.
Vanilla - Vanilla is anti-inflammatory and full of antioxidants so great for irritated skin and protecting the skin too.
Combo 02
30g(approx 3tbsp) Ground Coffee - Coffee is a diuretic, meaning that it will help the body get rid of unnecessary water and other toxins. Exfoliating properties will make your skin soft and smooth.
1tsp Cinnamon - Helps to heal, acne, blemishes and other skin infections.
1tbsp Honey - Honey is naturally antibacterial, so it's great for acne treatment and prevention. Its antioxidants will repair skin and protect it against oxidative and environmental damage.
2tsp Rose Water - Tones skin and helps maintain the skin's pH balance, and also controls excess oil.
Combo 03
2tsp Coconut Oil - Rich in saturated fats, coconut oil will deeply moisturise the skin. Coconut oil is also antimicrobial making it perfect for a pore cleaning scrub.
2tbsp Turmeric Powder - helps soothe and heal inflamed skin and leave you glowing.
Mix desired combo. Apply to skin and leave for 10-15mins then rinse off with water and pat face dry.
There's so many natural ingredients that our skin loves so don't be afraid to explore more combinations!
Let's be more conscious about what we put on our bodies and make the effort to be as resourceful as possible x
Places to find natural and ethical beauty resources/tips.
Hope this was helpful! As always, let me know if you give this tutorial a go and how it turns out. Hashtag the outcome #essentialsclub on social media.