DIY: Linen Culottes
I've been making a bit of an effort lately to find alternatives for my go to jeans for winter. Culottes seem like the ultimate styling winter warmer with the ability to dress up or keep it casual. I've been dreaming up this piece for a while now and so fun to finally see them come to life and right in time for the cold snap on the coast.
Keep scrolling to find the written steps below for how I made a pair of culottes or:
- Linen Fabric (AMOUNT: measure your full hip/bum - whatever you need to allow more room for - circumference and times that by two. That will be plenty enough for seam allowance and waist band.)
- Lining Fabric (Only applicable if fabric is a light colour and you want to prevent it being see through)
- Zip (approx 20cm)
- Zipper sewing foot (I did mine without one so not a big deal if you don't have one of these)
- Matching Thread
- Fabric Scissors
- Sewing Machine
If you already have a pair of pants you like the size of then use that as guide to your measurements.
Flip your template shorts inside out and lay on top of the fabric to one corner. Start tracing around ensuring that you leave an in gap from the edge for seam allowance. If these shorts aren't high waisted make sure you add length above to reach your belly button and then also figure out how long you'd like the culottes to be and add draw down to this point on the fabric for the hem with 1 inch seam allowance added to top and bottom. (watch video for steps if this doesn't make sense)
If the fabric is see through then duplicate each panel with a lining fabric.
Place the good sides of the linen together and sew down just the crotch. Repeat this for the other side and if you're using lining then on these too.
(Step only applicable if using lining) Face the good sides of the linen and lining inward and sew across waistline when you flip out to reveal good sides you'll find a nice clean 'hem'. Repeat for other side.
Time to join the side seams. So again face the good sides of the linen together and pin down side seams ready to sew. Towards the top of your preferred side pin in place the zip. Sew zip then down both side seams to connect the two sides (remember to stop about 20cm from the bottom to allow for splits)
At this point the waist would still be quite wide. So this is where dart points will be added to help shape the top half to your hips. It might be best to try on the pants at this point to determine how much needs to be taken in. But generally basing it off the initial measurements we added to the waist length, a 1 inch per leg panel should be perfect.
Prepare the halfway point of each panel and mark/pin the 1inch starting point and draw or pin a line in place that reaches about 20 centimetres from the top.
Time to clean up the final edges. Face good sides of the back and front sides together and sew down remaining centre leg seam to secure into the shape of pants!
For these I added a split on the outside, therefore I hemmed the lining so it stopped before it and would allow the split to be a bit more free flowing. If you didn't leave a gap when sewing down the side seam then just unpick to the desired point and hem along the bottom and up the gap area.
Finally sew as close to the edge along the top to give it a nice flat finish!
VIEW VIDEO TUTORIAL BELOW
I normally do whatever I can to avoid using zips so this one was a healthy challenge for me.
Linen culottes are such a beautiful staple piece for any wardrobe with the ability to easily dress up or keep things casual - but still styling.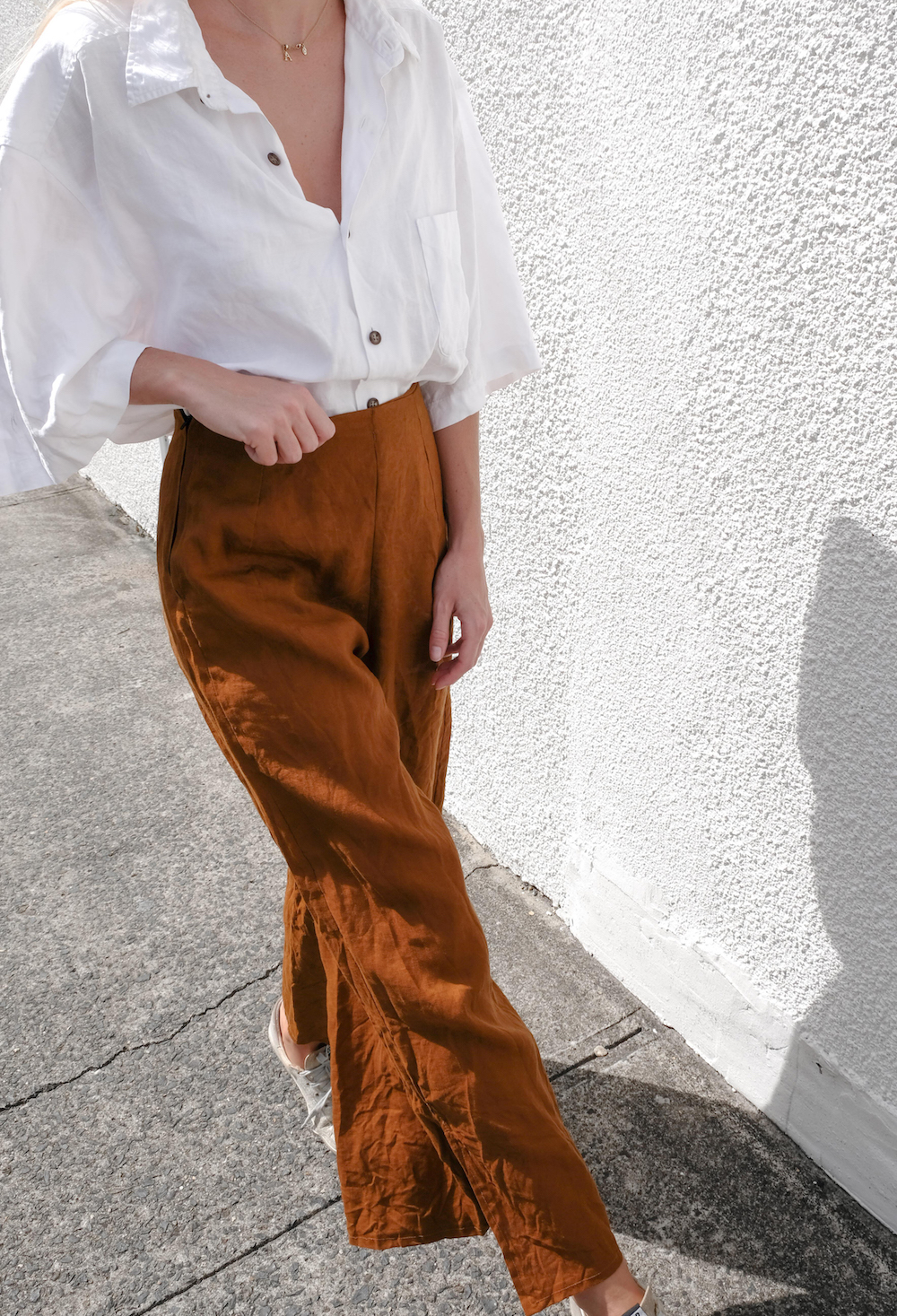 Hope this was helpful! As always, let me know if you give this tutorial a go and how it turns out. Hashtag the outcome #essentialsclub on social media.